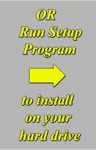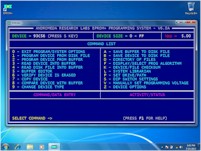 The EPROM+ software provides the foundation for a powerful yet easy-to-use programming package. The software is compatible with nearly any PC with an X86 processor. The distribution CD includes its own operating system and is
bootable
on any host machine allowing it to work
with or without Windows
. You may also create a
bootable USB Stick
. This allows you to have not only bootable
media but also media on which you can load or save files related to your work. This allows you to keep everything in one place and not be locked to one machine. Although fully compatible with all versions of Windows (including Win7, 8.1 and 10), you never need to be concerned with installing software or drivers to use the system. The program has a simple, elegant user interface and can easily be installed on your hard drive using the
setup program
. A primary feature of the EPROM+ is that you can use it with
any available computer,
no matter what the age, operating system or configuration. (
customer comment
) You simply connect the programming unit to the host machine, connect the power pack, insert the program media, start the program or reboot the machine (boots in less than 20 seconds). There is no software installation necessary unless
you specifically choose to do so
. When the program starts it will automatically locate the programming unit. When you end your work, shut down the program and disconnect the programming unit. The system leaves no residual files on the host computer. It does not write to the Windows registry or in anyway become entangled with the host operating system. This is true for all versions of Windows and is a unique feature of the EPROM+ system.
COMMANDS AND FEATURES
The system software provides a comprehensive set of commands specifically designed to perform all common operations. Command operation is simple: each is selected by pressing a single key. Once selected and confirmed the command executes the selected function. In additiion to the COMMAND LIST functions, the software also provides a full featured, comprehensive buffer editor which allows you to perform byte and bit oriented operations on the data in the system buffer. For a detailed description of each system command use the navigation menu on the right. For information about the main command display use the screen image below
.