ORDER ON-LINE
( U.S. DOMESTIC AND INTERNATIONAL ORDERS)
The most convenient order method is to use the
ADD TO CART
button located with each item on the website. This applies to both US Domestic and International customers. When you
CHECKOUT
the appropriate shipping charge, based on total weight of items, is added to the order. You may pay using a credit card or PayPal account. This option uses PayPal to process the order and will not work if PayPal is not available in your country.
ORDER BY PHONE

(513/831-9708)


( U.S. DOMESTIC AND INTERNATIONAL ORDERS)
If you have any questions or wish to place your order by phone, you may call and speak with a representative. We welcome your questions and will always do our best to provide a complete and informative answer. Phone orders may be paid by credit card (VISA, MasterCard, Discover and American Express).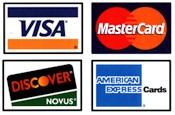 REQUEST AN ELECTRONIC (PayPal) INVOICE
(INTERNATIONAL ORDERS)
If you wish you may request that an ELECTRONIC INVOICE be sent by email for the items you wish to purchase. The invoice may be paid using a credit card or PayPal account. The invoice may also be used as proof of package content and package value for customs.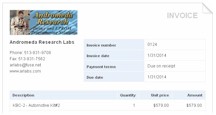 ORDER BY FAX
(513/831-7562)
( U.S. DOMESTIC AND INTERNATIONAL ORDERS)
If you wish you may order by FAX. Download and print the
order form
. To proceed fill in the shipping, product and payment information. Once the form is complete fax it to (513/831-7965). We will confirm order receipt by email.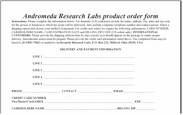 ADDITIONAL PAYMENT OPTIONS and PROFORMA INVOICE
Credit card/PayPal payment is preferred however if this method is not an option you may also pay using WESTERN UNION or WIRE (BANK) TRANSFER. If you wish to pay by wire transfer,
email
and we will provide the wire transfer information. Also note that we are assessed a $20 charge by FEDWIRE to perform the funds transfer. This charge will be added to the total cost of your order. If you require a PROFORMA INVOICE
email
with the request and provide your shipping and order information. The PROFORMA INVOICE will be created and emailed.

STANDARD SHIPPING AND SHIPPING OPTIONS

United Parcel Service (UPS) is our primary carrier for U.S. domestic (48 states plus Alaska and Hawaii) shipments. U.S. domestic on-line orders are shipped by UPS surface in 1 to 3 business days. Faster shipping options (Next Day Air or 2nd Day Air) are available at checkout. International orders are shipped by Express or Priority Mail (U.S. Postal Service). Transit time for Express Mail is usually 3 to 5 days. Transit time for Priority Mail is 6 to 10 days. Please note that we require a telephone number to complete the export documents for International orders. Once the package ships we will email the tracking number.
NOTE 1: Authorized product returns (RMA#) will be subject to a 25% restocking charge.
NOTE 2: Products which are built to order cannot be returned. This includes Kits, Adapters and Custom cables.
NOTE 3: Unauthorized shipments will not be accepted and will be returned to the shipper.